Jennifer R. Kowalski, Ph.D.
Associate Professor
Department of Biological Sciences
Butler University
4600 Sunset Avenue
Indianapolis, IN 46208
Office: Gallahue Hall 271
Research Lab: Gallahue Hall 272
Phone: (317)940-8879
FAX: (317)940-9519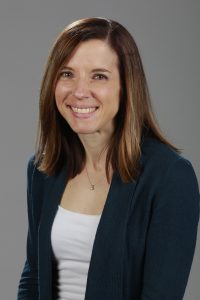 Education & Training
Postdoctoral training, Tufts University School of Medicine, Physiology, 2006-2009
Ph.D., Harvard University, Cell & Developmental Biology, 2006
B.S., University of Notre Dame, Biology, 2000
Courses
BI220 Cell & Molecular Biology Fundamentals
BI460/NS460 – Cell & Molecular Neurobiology
BI480: Stem Cells Capstone
BI411: Principles of Physiology
SW275:Mental Illness: Biological, Psychological, and Sociological Perspectives
NW206-BI Life, Death, & Immortality (with Dr. Angela Ockerman, COPHS)
Research Interests
Research in the Kowalski lab focuses on understanding the molecular processes that control the ability of neurons to communicate with one another at specialized cellular junctions called synapses (synaptic transmission). The precise regulation of synaptic protein abundance and function impacts the strength of synaptic transmission, which changes during processes such as learning and memory. We utilize the roundworm C. elegans as a model system in which to identify and characterize enzymes belonging to two highly conserved protein modification pathways (called the ubiquitin pathway and the SUMO pathway) and their substrates and regulators that control synaptic transmission. To do this, we employ a combination of genetic, biochemical, cell biological, and behavioral approaches. Since there is significant conservation of neuronal proteins between C. elegans and humans, these studies may also provide insight into how synaptic transmission is controlled in the human nervous system.
Click here to read more about research in the Kowalski lab, including information on past and current students and an answer to the question "Why study neurobiology in microscopic worms?"
If you are interested in doing research related to central questions in neuronal cell biology, contact Dr. Kowalski.